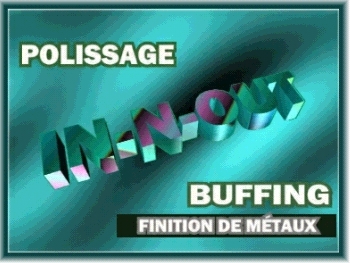 CLICKCLICK
Depuis 1996, notre compagnie oeuvre dans la finition du métal. Notre spécialité étant le polissage de l'acier inoxydable, nous sommes la seule entreprise au Québec spécialisée dans le polissage de véhicule Prévost. Nous faisons le polissage et le sablage de l'aluminium. Voici quelques photos de nos réalisations.

Our Company is specialized on metalfinishing since 1996. Stainless steel polishing is our speciality and our Company is the Only one specialized in polishing Prevost's vehicles in Québec.We also polish and buffing aluminium.Here are few pictures of our work.

Pour agrandir cliquez sur l'image.
To enlarge pictures just click on it
LeMIRAGE XL45 ENTERTAINER BUS SHELL


PPolissage de Stainless

Polissage de cuivre

Polissage d'aluminium

Proprietaire-Owner
Plus de renseignements?-More Information?
Contactez-Please contact
Josee Demers & Richard Ringuet
608-9 Rte Kennedy.Pintendre (Quebec) G6C1K1
Tel=Phone:418-838-6666
Telecopieur-Fax:418-838-4898


- 09-10-02 16:46:34 Ecrire-E-mail-


VISITEURS